Combo 1 Hair Fall Control | Anti-Dandruff
Regular price

Rs. 1,299.00

Regular price

Rs. 1,550.00

Sale price

Rs. 1,299.00
Share
The exceptional combination of biloba naturals & nuxe essence is quintessentially tailored for conditions like hair fall, thin hair, dandruff, baldness, itchy & flaky scalp, lice, frizz, roughness, & split ends.

The phenomenal combination kit awakens your hair follicles with the special blend of ayurvedic herbs infused in organic oils. They nourish, stimulate and boost hair growth from the scalp, and balance the pH level of your hair. The high quality ingredients deeply absorb into the hair shaft. It is ideal for those suffering from hair loss, excess shedding, dry, itchy and flaky scalp, dandruff, lice, frizz and breakage.
BENEFITS  

➤ Hair fall reduction
➤ Fights dandruff, treats dry and itchy scalp
➤ Rapid hair regrowth & length retention
➤ Avoids thinning which occurs on top & crown of the head
➤ Avoids hair breakage
➤ Effective in female pattern baldness, hair loss
➤ De-frizz & smoothens rough hair
➤ Removes lice
➤ Hydrates and moisturizes your dry & brittle hair
➤ Protects from harmful UV rays & heat
INGREDIENTS

BILOBA NATURALS

Formulated with replenishing Argan, jojoba, virgin coconut oil and an herbal infusion of Amla (Indian Gooseberry), Neem, Methika, Bhringaraja, Ginkgo Biloba, Pot Marigold (Calendula), Amla (European Gooseberry), Tee Tree Oil, Vetiver, etc.

NUXE ESSENCE

Hibiscus, Sunflower, Badam (Almond Oil), Ginger, Vetiver, Aloe Vera, Sesame Seed Oil, Virgin Coconut Oil, a valuable addition of Vitamin-A and Vitamin-E essentials, etc.
DIRECTIONS FOR USAGE

➤ Warm and apply Audora hair oil to dry hair and scalp.
➤ Massage the oil into the roots for 2-3 minutes.
➤ Leave it overnight or at least 1 hour before hair wash. ➤ You can apply and leave for 1-2 days as well.
➤ Use warm/ normal water to rinse the oil.
➤ Use a mild shampoo and conditioner for better results.

Follow the above steps at least 3 times a week for 3 months for best results.
➤ Use both the hair oils alternatively. Example: Day 1, apply Biloba Naturals and Day 3 apply Nuxe Essence and likewise.
(Never brush your hair when it's wet or after applying the hair oil)
NOTE

➤ 100% natural, wild-crafted and organic, paraben-silicone & sulphate free. We are committed to ensuring all our products are cruelty-free.
➤ Everyone is different and hence results may vary from person to person.
➤ Natural herbal formulation tends to change color over time. However, the product efficiency remains unchanged.

*GET VISIBLE RESULTS IN THE VERY FIRST HAIR WASH & USE THE PRODUCT FOR A MINIMUM OF 3 MONTHS FOR COMPLETE RESULTS*

➤ SHELF LIFE: 24 months from the date of packaging
➤ WHO CAN USE: All aged above 3-years can use COMBO-1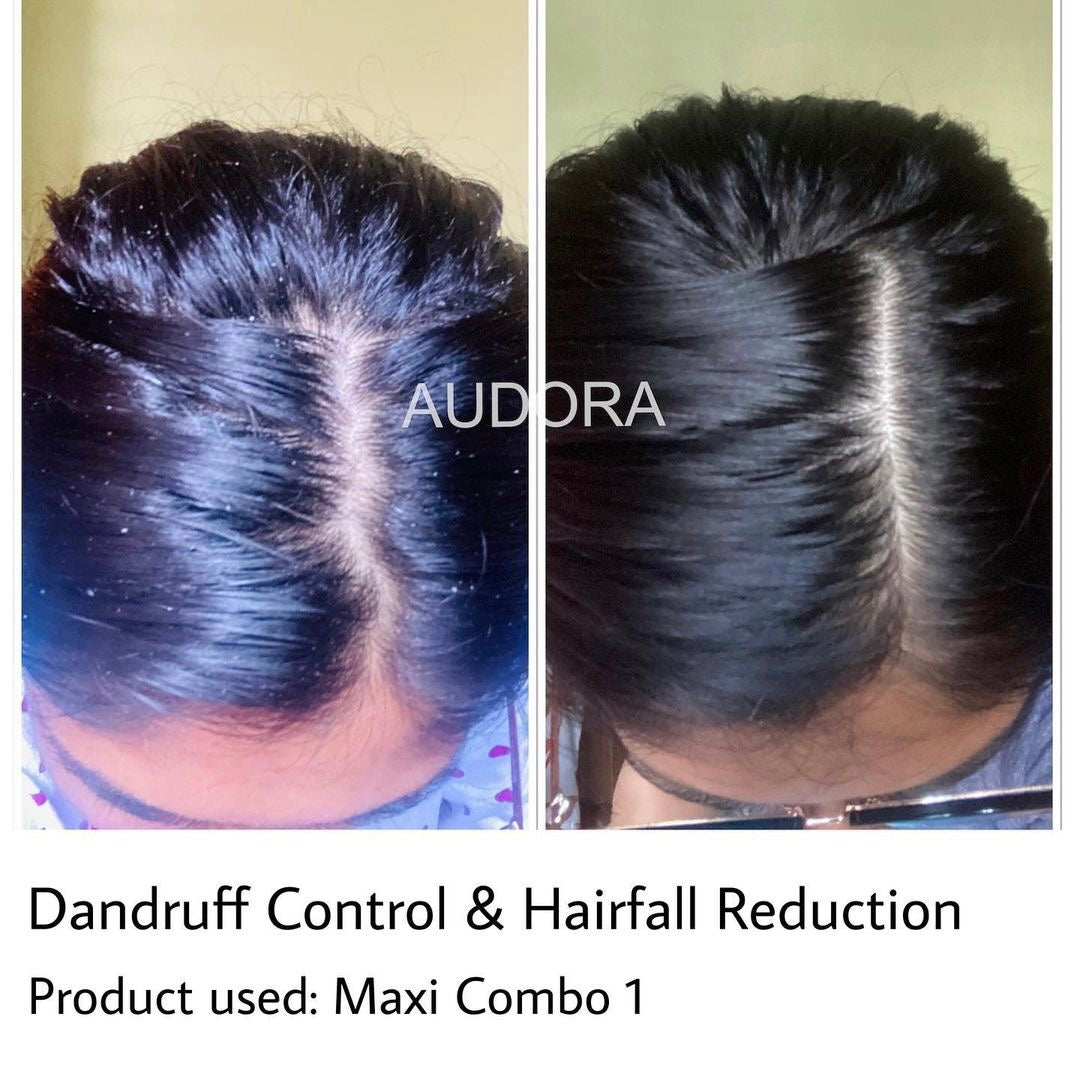 Combo 1 Hair Fall Control | Anti-Dandruff
Healthy Inside Out??????
Audora's hair fall control combo works from the inside out to nourish my hair. I'm impressed with the results.
Healthy Hair Journey
Thank you for creating such an amazing product!
Love at First Use??
I fell in love with Audora's hair fall control combo from the moment I used it. I'm grateful for this wonderful product. My hair looks and feels amazing, and the reduction in hair fall is incredible.